I don't know about you but I have been watching the Winter Olympics. What is my favorite so far?  Snowboarding. Absolutely! Hands down favorite!  On Facebook recently I saw someone suggest how much fun it would be if  Dressage  could have commentary like the snowboarding for live streaming of the Dressage Freestyle events.  Dressage commentary is similar to golf; quiet, subdued, and extremely respectful.  But commentary in the style of Snowboarding?  Well….I felt a blog post coming. So here it is Dear Readers! Anything in capital letters should be read as being spoken in an excited shout.
Ok. Next we have Mary Jane Burton and Capezio. Mary and Peetzie! They got a HUGE score in the qualifying round. In this run they're gonna put it down. They're gonna push their limits. This is the Olympics and they've worked so hard to get here. Now they're gonna go out and DO IT! The judges want to see them go BIG, they want to see AMPLITUDE.  Jane and Peetzie have got all the tricks. They're gonna risk it right off the bat and end with a gate closer.  Here they come!
Their coach calls to them and says:  "Calm and Confident" as they take up their starting position.
WOOOOOWWH!  What an opener! Beautiful 720. These two are an absolute powerhouse in the 20×60 arena! They're working the arena like a pendulum. Technicality! Amplitude! The changes, look at that amplitude! CRAZY!  They're just popping them out higher! They're doing the BIG method here!
Another GREAT COMBO! That's the way you do it!
WHOA! Another 720! They are throwin' down the hammer here! The judges are going to LOVE this. They love it when you risk it for the biscuit!  Oh…WOW…that combo was BONKERS!  And they can't fake it! No way! The judges have the cameras and the camera misses NOTHING!
They are PUTTIN' THIS DOWN!  THEY ARE THE KING AND QUEEN OF THE ARENA.
This is a dream Dude! A DREAM!  So FAST! Look at them go  EX—TEN—DED! WhoooooH!
They are puttin' this down!
DUDE!!!! THEY JUST DID A 1080! A 1080!  They've got that gold medal round their necks. They came out and they THREW IT DOWN.
Here comes the score…… YES!!! IT'S A GARGANTUAN SCORE…..98.25!
THAT'S AN OLYMPIC GOLD MEDAL!!!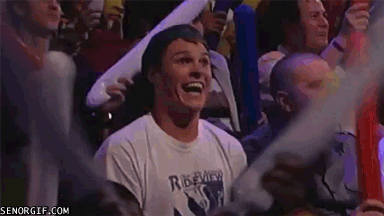 Well? What do you think? I know this commentary is not likely to happen in Dressage….ever…..but it is fun to imagine!