Covid restrictions and requirements can be very confusing. Some restrictions were lifted for the May long weekend: tennis was allowed, golf was allowed and riding establishments could reopen. Some of us thought that meant we could have lessons again as long as they were held outdoors. Nope! I can play tennis or go golfing but I cannot ride outdoors and have my coach give me instruction. It is very frustrating as we would always be farther than 10 to 20 meters apart. So certainly more than social distanced. And we would be outside! In the fresh air!
I felt quite grumpy about it. The lockdown will remain until we have a certain percentage of the population of Ontario vaccinated with at least one vaccination. That my or may not happen by June 14th.
Yesterday I read an article in a blog post of a fellow WordPress blogger, Nilzeitung, who is in Germany.(Click the link if you would like to see the original post.) I was sharply reminded that my problems are First World Problems. The article is about horses in Bangladesh and it is the grim reality of life in a desperately poor country like Bangladesh. I copied an English translation of the blog post. It is taken from an AFP news report.
Horses starve as the Covid pandemic hits tourism in Bangladesh.
by Nilzeitung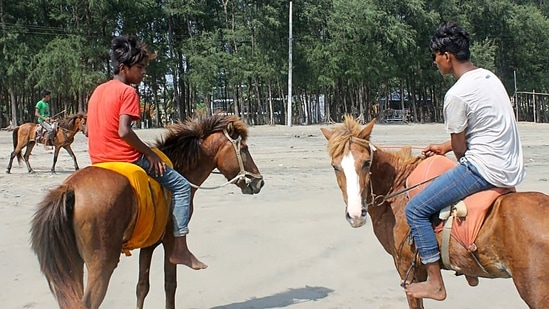 Bangladesh, a South Asian country of 168 million people, is battling a new wave of coronavirus infections that is straining its health system and causing a nationwide lockdown. AFP | PUBLISHED MAY 30, 2021 8:30 PM
Horses starve as the Covid pandemic hits tourism in Bangladesh.
Bangladesh, -More than 20 horses starved to death in Bangladesh's most popular resort area in just one month, the owners of the animals said on Sunday as the country's tourism industry suffers from the economic fallout from the pandemic.
The South Asian nation of 168 million people is battling a new wave of coronavirus infections that has strained its health system and triggered a nationwide lockdown.
The owners of the horses said they were struggling to afford feed for their animals, which is used for tourist rides on Cox's Bazar Beach – one of the longest in the world.
"As soon as the coronavirus hit the tourist numbers … dropped to a trickle," Farida Begum, spokeswoman for the Cox's Bazar Horse Owners Association, told AFP.
"We're fighting to make ends meet. How can we feed the horses? "
Tourists had briefly returned to the district from December to February as infections slowed, but visits dried up under the new April 14 lockdown.
At least 21 of up to 90 horses used for tourists on the beach died last month while others were emaciated, Begum said.
41 horses – including eight of Begum's own – died during last year's lockdown, she added.
Some owners have released their horses in hopes that they can survive by eating grass or foraging for food.
The horse owners say they are struggling to support their own families and many take out micro-lender loans just to make ends meet.
"Micro-lender officials come to my home every week and urge me to repay the loan in installments. But if the tourists don't get to Cox's Bazar, I won't be able to pay the money back, "Begum said, adding that she borrowed 100,000 taka ($ 1,200).
Dozens of horse guides, usually hired by the owners to help tourists with the rides, have switched to rickshaw driving or construction work.
– "No tourist means no income" – The resort usually attracts more than two million mostly local tourists each year.
But as part of the nationwide lockdown, offices and markets are closed and public transport has ceased. Horse owner Sarwar Azam told AFP that one of his animals died last week and the second was starving as well.
The head of a local horse-owning organization, Nishan Ahsan – whose four animals died during the lockdown last year – said its members had received limited help from the government.
"During peak tourist times, a horse can earn up to 2,000 taka ($ 23) a day. We'd put some of that income aside for the horses' expensive food, "Ahsan told AFP.
"But no tourists mean no income for us."
Cox's Bazar government administrator Sumaiya Akter said she had heard of only four to five horses that had died in the past eight months.
She added that since May 9, the government had given the owners 146 bags of bowls and 20 cans of molasses.
Bangladesh has seen nearly 800,000 coronavirus infections and more than 12,300 deaths since the pandemic began, but experts believe the actual numbers are likely much higher.
Just over six percent of the population received their first dose of vaccine while the government said they are running out of vaccinations to fight the latest devastating wave of viruses.
Source / afp / is
So….I'm grumpy because I cannot have lessons? When I read about this suffering of horses and humans in other parts of the world I got over my grumpiness pretty darned fast. I am so fortunate and privileged to have a beautiful horse, enough food for my horse. and the wherewithal to support my family. If Covid confusion is my only problem ,it is a pretty small problem; only a minor inconvenience really.
Featured photo of my horse Biasini (C) Connie Gee*